About Urban Waite
Urban Waite is a good guy who writes evil things (or maybe vice versa.) He is the author of The Terror of Living, The Carrion Birds, and Sometimes the Wolf. All of which have been named to various Best Book of the Year lists, such as Esquire, The Boston Globe, The Sun Sentinel, LitReactor, and Booklist. His short fiction has appeared in the Best of the West anthology, the Southern Review, AGNI, Gulf Coast, and many other journals. All of his past novels have been optioned for film and have been translated into nine languages. The novels are available in more than twenty countries worldwide.
His forth novel, Far Cry Absolution, published by Simon & Schuster and Ubisoft, is a novel tie-in for the bestselling, Far Cry video game series.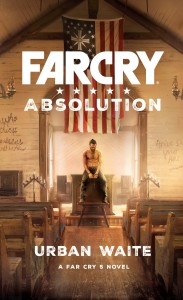 The official novel of Far Cry 5, the #1 video game in the world.
"This novel reads like an old school pulp crime fiction but is set in the present-day hardscrabble rural America of anti-government militias and apocalyptic cults… Many times, a novel written to promote a game can seem to be a thinly veiled side mission. This is not that… Waite has crafted a story that gives the reader a look inside the game but also stands on its own… If the game comes close to the tone and plot of the book I'm sure it will be a great success. I will definitely be playing it. I will also be buying books written by Urban Waite."
COLIN FLANAGAN, Game Industry News
"Absolution amazes taking its time and giving the right thickness to the characters. Environments (wild nature), topics covered (faith, fanaticism, freedom and ideology) and the constant presence of firearms link this novel to the extreme stories of a Lansdale (horror Waltz, The Night of Drive-In) or a Gischler (The cage of the apes) perhaps with a prose a little less anarchic and pressing, more measured and objective, but equally engaging."
ALBERTO GRANDI, WIRED
"Another of the best videogame books of 2018. Written by Urban Waite… (Far Cry Absolution) is a novel set and based on the recent Far Cry 5. If you are interested in the game and its characters… you can not miss this novel."
XGN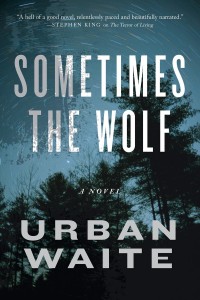 SOMETIMES THE WOLF has been named a Best Book of the Year by THE SUN SENTINEL and LITREACTOR in addition to being an INDIE NEXT PICK, an AMAZON EDITORS' PICK, a HIGH COUNTRY NEWS EDITORS' PICK, and part of KIRKUS REVIEW'S FALL HITS LIST.
"A brisk plot, well-developed characters, thoughtful reflections on the ebb and flow of family ties, and — most of all — Waite's eloquent language describing his setting's untamed beauty."
ADAM WOOG, The Seattle Times
"It's a rare thing to balance a thriller plot on characters with such stooped shoulders, but Waite manages the feat with surprising dexterity. Another emotionally rich novel from a very special writer."
BILL OTT, Booklist, STARRED REVIEW
"Sometimes the Wolf is a tremendous novel by a rising powerhouse of a writer. Urban Waite tells tense, thrilling stories with thoughtfulness and emotional clarity, and his prose is simply astonishing. Anyone who is late to the party couldn't ask for a better entry point than this hybrid of crime drama and father-son story."
MICHAEL KORYTA, New York Times bestselling author of Those Who Wish Me Dead
"Waite weaves a gripping tale of family intrigue, betrayal, lies, deception, kidnapping, murder, and even forgiveness. The story flows faster as the pace of action increases. Highly recommended for fans of Dennis Lehane and Elmore Leonard and gritty thrillers in general."
Library Journal, STARRED REVIEW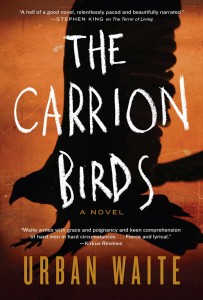 AN INDIE NEXT PICK and Finalist for the New Mexico/Arizona Book Award
"A lean and mean, modern-day noir western filled with complex characters and situations . . . surely a candidate for best crime book of 2013."
SAM MILLAR, New York Journal of Books
"Waite follows his acclaimed first novel, 2011's The Terror of Living, with another searing western noir. Three people face terrifying moral choices as they each wish for what they can't have."
Publishers Weekly, STARRED REVIEW
"A Pandora's box of chain reactions that wreaks havoc on a small southwestern town, havoc that is described in such graphically poetic prose that it occasionally makes the hair on even a cynical noir fan's head stand on end."
BILL OTT, Booklist, STARRED REVIEW
"The Carrion Birds, a tale of a Vietnam vet--slash--criminal enforcer is as muscular and laconic as anything by Cormac McCarthy, yet it crackles with humanity."
TINA JORDAN, Entertainment Weekly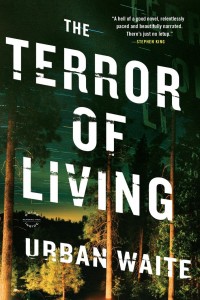 THE TERROR OF LIVING has been named a Best Book of the Year by THE BOSTON GLOBE, BOOKLIST, and ESQUIRE MAGAZINE in addition to being an INDIE NEXT PICK and an AMAZON EDITORS' PICK.
"A hell of a good novel, relentlessly paced and beautifully narrated. There's just no let-up. An auspicious debut."
STEPHEN KING
"It's getting harder and harder to tell the good guys from the bad guys in a modern western, of which Urban Waite's first novel, The Terror of Living, is one fine specimen."
MARILYN STASIO, New York Times Sunday Book Review
"This formidable fiction debut by Urban Waite unfolds in short and often all too memorably violent sequences, yet the author also allows his characters room to wrestle with private demons as the intense, often gruesome tale races toward its satisfying resolution."
TOM NOLAN, The Wall Street Journal
"Told with a force that lifts off the page, and a sentient clarity about ordinary people trapped in crisis, it's a superb debut thriller."
GEOFFREY WANSELL, The Daily Mail
"The Terror of Living is a smart, swiftly-paced and bloody Western for our moment. Urban Waite is a writer who won't let a reader wander away--he keeps you reading, and reading, and rewards all your attention with a powerhouse story and prose to match."
DANIEL WOODRELL, author of Winter's Bone and The Bayou Trilogy
"In the tradition of No Country for Old Men, Urban Waite has written a nail-biter that takes off from the get-go and never stops, a book chock full of memorable characters and kick-ass writing. Clear your calendar before reading this one, folks, because once you start there's no stopping until the end, which arrived much too quickly for this reader. A smashing debut."
TOM FRANKLIN, author of Crooked Letter, Crooked Letter
Urban Waite can be reached through his Facebook page.
For domestic and foreign rights he is represented by Sobel Weber Associates in New York.
For film rights he is represented by Intellectual Property Group in Los Angeles.